Ames Prayer Letter, December 2020

A pivotal mission field
One million international students from all over the world attend universities in the USA. Upon graduating, international students become leaders in government, media, journalism, business, medicine, science, and education--being a pivotal part of shaping their respective cultures. Forty percent of current leaders in governments were international students. This is part of what makes the university one of the most important mission fields on earth.
The blessings of serving international students
While serving with Chi Alpha for the past several years, we have been able to experience first-hand the pivotal nature of the university through the blessing of international students.
We got to be a part of God's work in the following alumni's lives:
South Korean student attending seminary praying about future direction in the mission field
Award-winning employee at Samsung who is an active part of her church--serving in hospitality
Award-winning journalist at a major publication in his country
Alumni from Madagascar leading a team of other alumni (we also got to serve in XA) in reaching other international students on a university campus
Alumni from India being a witness for Jesus in his country
Alumni from closed Muslim country equipping pastors from his country to share the gospel there
Many other alumni working as missionaries cleverly disguised as engineers, teachers, scientists, healthcare professionals, business people, full-time moms (i.e. we saw every student as communicators of the gospel, no matter what their vocation)
Seventy seven percent of college students currently attending Chi Alpha ministries are not from a church background. We get to reach those who would never otherwise darken the threshold of church doors.
Chi Alpha, reconciling students to Christ, transforming the university, the marketplace, and the world!

A new opportunity to reach university students
We have great news! God has ultimate knowledge for our lives including the place where He wants us (the Ames family) to be as we continue to serve in Chi Alpha. We will be serving on a different university--we are happy to announce that we will be joining the XA team at Florida State University in Tallahassee, Florida! We are praying God will make it possible for us to be moving there in a month!
Florida State University has a total undergraduate enrollment of 33,270 students and is home to approximately 2,500 international students from 130 nations and areas. The international student population at FSU is largely composed of graduate students (78%) many of whom make great contributions in research and teaching. Students come from China, Korea, Panama, India, Turkey, Taiwan, Japan, Canada, Lebanon, United Kingdom and many other nations.
No matter our location, we will be reaching the nations with the love of Jesus by reaching international students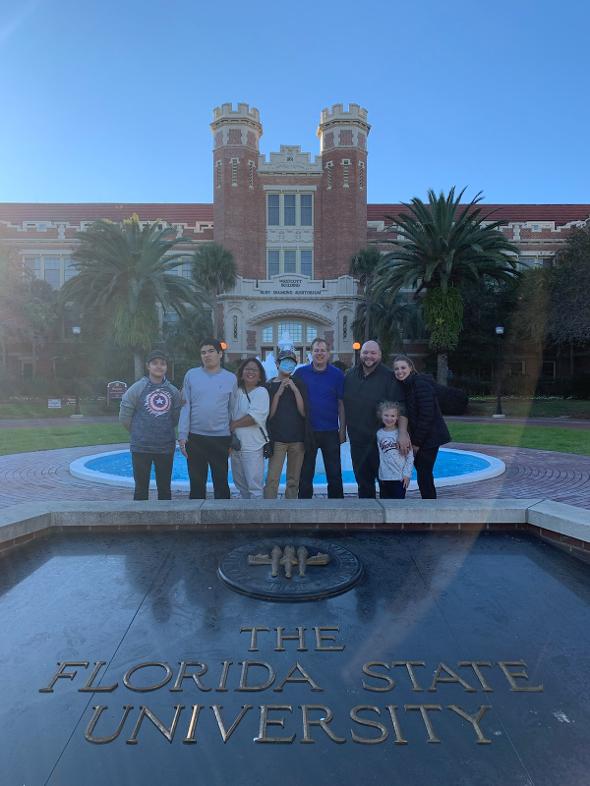 Remaining $850 to raise in monthly financial support by December 31st
We are almost there to get to 100% of our needed monthly support! We thank God for all the faithful partners we have all these years and for the new ones who joined our support team in recent months. Here is a breakdown of what we need. Thank you for prayerfully considering supporting us monthly!
5 people at $100/month
5 people at $50/month
4 people at $25/month
Goal to raise $8,000 in annual gifts by Dec 31, 2020 due to our move from St Louis
Would you be willing to give an annual gift to help towards our moving expenses and some repairs of our house in order for us to sell it? We will be spending $8,000 for the aforementioned expenses.
Ways to give
If you would like to give an annual or monthly gift securely online go to: s1.ag.org/ames
If giving by check, write your first check and make it out to "Chi Alpha" and include "Bryan Ames #2630457" on the memo line of the check.
Mail check to : US Missions, 1445 N. Boonville Ave., Springfield, MO 65802
Your gift will be tax-deductible and handled with complete integrity through the Assemblies of God US Missions Department.
Prayer Requests
For the house we are selling in St Louis to get a contract by Dec. 31st.
For God to provide a house for us in Tallahassee, FL soon.
For our children to have an easier transition to their new schools.
For grace, strength and protection from God during our move.
For God to prepare the hearts of students we will be ministering to at FSU.
For new partners in ministry to join our support team.
For God to help us grow in our intimacy with Jesus.
We are looking forward to the many opportunities that await us in discipling international and American students to be a part of God's call to impact people globally for the gospel. We can't continue on this mission alone. We thank all those who have been partnering faithfully with us to share the gospel all these years. Thank you in advance for all those who will be joining our team in impacting the nations for Jesus!
We wish to you and your loved ones a blessed Christmas and a Christ-filled New Year!
With deep gratitude for your partnership in this important mission,
Bryan and Cecile Ames
© Copyright Bryan & Cecile Ames